Real World Case 1 – 16 Y/O Male
A Translational Study 'Case Report' on the Small Molecule 'Energy Blocker' 3-Bromopyruvate (3BP) as a Potent Anticancer Agent: From Bench Side to Bedside(2012)
The first patient to be treated with Dr. Ko's 3BP compound.
Treated at Frankfurt University in 2009
16yr old patient with progressive fibrolamellar hepatocellular carcinoma, 3 month of prognosis
The patient was given 9 doses of KAT (200 mg) over a period of 6 months
After treatment, the patient loses cancer and the tissue regenerates from 5% to 30%
1.5years after CR, the patient dies of pneumonia due to excessive antibiotic therapy that destroyed liver function. No cancer was found as a result of CT scan by postmortem examination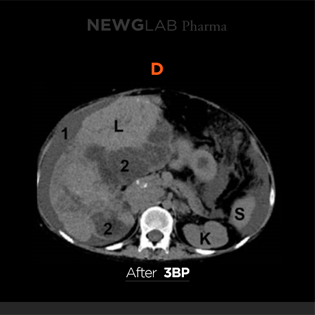 Left images taken before treatment, right images taken after 9th treatment.

Tumors throughout liver (L) are necrotic, encapsulated, and showing fibrosis.

Lymph nodes that were enlarged (green star) have returned to stable size and shape.

Spleen size (S) that was enlarged has drastically reduced.
Real World Case 2 – 70 Y/O Male w/ Melanoma
In 2017, 70 y/o male had biopsy taken of forehead growth.
While waiting for the results, the patient starts applying wet gauze to the wound with KAT
A biopsy revealed the melanoma and a surgery was scheduled. The melanoma disappears as wound area heals
Observation of patients for one year without proof of recurrence

3BP completely remissed the remaining Melanoma after initial biopsy

Real World Case 3 – 100 Y/O Male
He was diagnosed with bladder cancer in February 2018, and biopsy showed high levels of aggressive urethra epithelial cell carcinoma.
PET tests before treatment showed three cancers in the bladder and one in the lung.
After bladder KAT therapy wash, the bladder was cleaned. Also found three cancers in the lung which were diagnosed in PET scan.
(Note: It is common for KAT to discover other tumors that have not yet been identified in PET imaging.)
After IV and in-mouth KAT treatment, bladder wash was also performed, and the third PET scan showed only one cancer in the lung area and the mass was smaller.
Now he is doing well and using ketone-producing diets with supplements.
April 2018 : A urologist eventually removed a tumor that was found, but only to the extent that surgery was possible.
Biopsy revealed advanced aggressive epithelial cancer.

May 2018 : Patient began a KAT bladder washing treatment applied through a catheter.

June 2018 (A) : PET scan showed no lesions in bladder but 3 lesions in lung.

July 2018 : Intravenous and oral KAT therapy were added. The bladder wash continued on most alternate days, without intravenous treatment.

Sep. 2018 (B) : PET scan showed small spots in the lungs.
There was no cancer in the bladder
Real World Case 4 – Mid-50s Y/O Female
A patient suffers from Stage IV neuroendocrine cancer has been receiving intermittent KAT treatment for the past decade.
Genetic reasons have caused her tumor to reappear several times, but the KAT was able to control it effectively without side effects.
The patient still lives a normal life. (Bottom Right, 20th Oct. 2018)
The patient still lives a normal life.
Candidates of Initial Indication